Hello Mailsac Team,
I hope this message finds you well. I am currently working on testing OTP functionality and have encountered a discrepancy that I'm seeking assistance with.
Scenario: I am in the process of testing OTP (One-Time Password) implementation. The main challenge I am encountering is that the content of the email received in my Mailsac inbox does not match what I am retrieving through the API code.
Initially, I received the correct response for the first attempt, as shown in the attached screenshot below:
Please find the screenshot attached.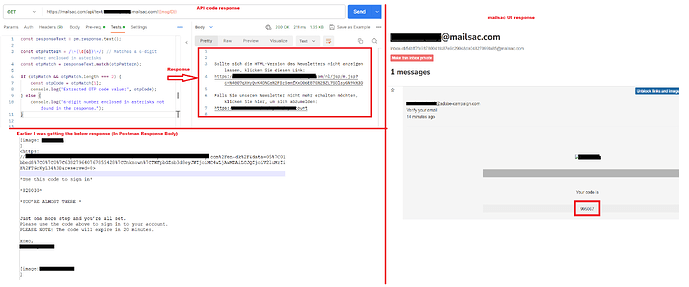 However, subsequent attempts to retrieve the OTP through the API have resulted in inconsistent content being fetched, which does not match the expected OTP content. This inconsistency has been a hurdle in my testing process.
I kindly request your guidance and support in resolving this issue. Your expertise and assistance in ensuring the consistency of the OTP email content between the Mailsac inbox and API responses would be greatly appreciated.
Thank you for your time and assistance.